I kind of like those positions where it's beneficial to pass up the obvious big play and save it for next turn. Those sort of cutesy plays don't come up too often, so maybe that's why I (probably?) misplayed this one: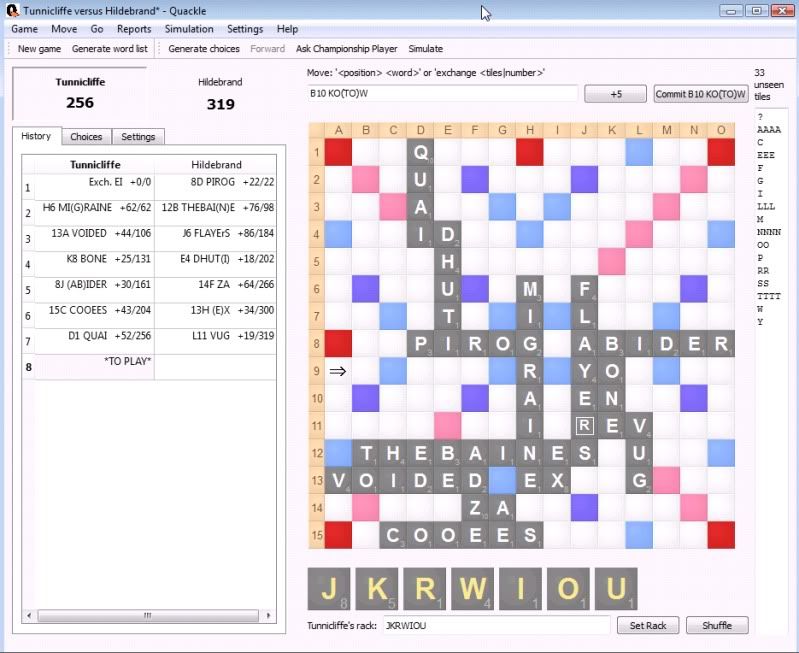 So QUIRK is the obvious play for 54. But I can't help but notice that oppo has just burned the last unseen U. So maybe I don't need to cash the Q yet. I'm down a bingo, so maybe I should milk my letters. KOTOW is 44 and keeps the U. Is this a good position to "double-dip" and get the most out of the K before abusing the U next turn?
I'm thinking I messed this up. And that's not just because KOTOW sims crappily or because I ended up losing the game (although those were compelling factors).
First, three shots to hit an E or a T is not great. I definitely overvalued my chances on hitting the big Q-play next turn.
Second, oppo just signaled no vowels (probably), so if he hit one or no vowels next turn, there's a good chance he's playing through the U on row 2 next turn, blocking the spot.
Third, AAAANNNNTTTT unseen... I can't rule out QANAT, although it would seem next to impossible after VUG. QWERTY, however...
Fourth, JOW is a promising leave on this board. I'm going to get my VOW or JOE at the very least, and probably something better. In hindsight, it seems more appealing than 44 and an okay shot at 42.
Anyways, I thought I would share this position. It's an interesting one to mull over even if QUIRK does seem obvious in the end. I just got too greedy/cutesy.